Academic Program
Talmud Torah at AMIT
Midreshet AMIT provides a unique combination of Talmud Torah and intensive chesed. Because we want all students who are motivated to learn and passionate about chesed to find a place for themselves at Midreshet AMIT, we are committed to providing exciting, thought provoking classes for ALL learners. Toward that end, we have worked hard to ensure that each time slot offers a variety of choices so that students of every level, background, and style can find classes that motivate them to achieve more than they ever thought possible in the world of Talmud Torah.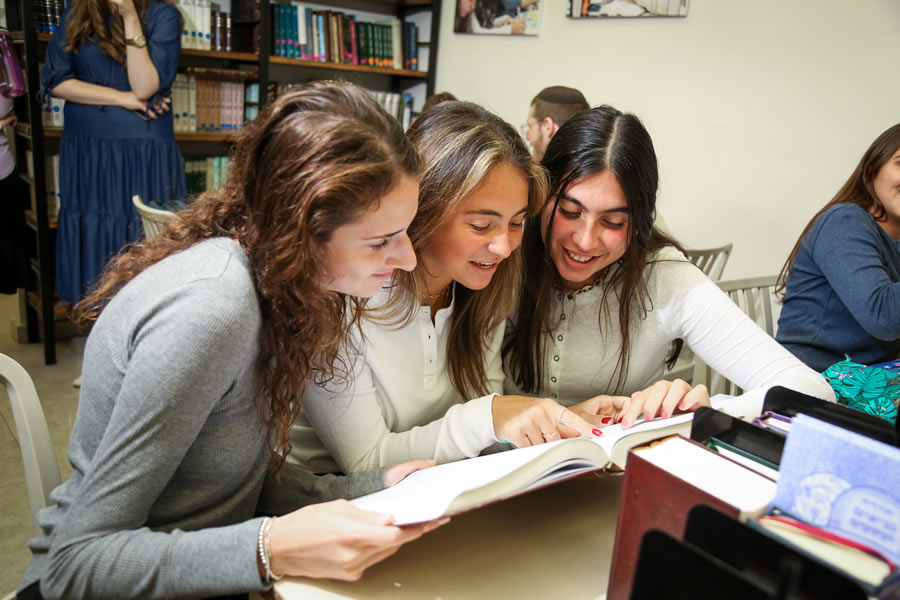 The daily schedule begins with Morning Seder. Morning Seder, from 9:00 until 12:45, consists of classes as well as time for independent learning in the Beit Medrash. A lengthy lunch break allows for time to relax, rest, exercise, hang out with friends, enjoy Yerushalayim, or pursue further learning. The Afternoon Seder, which runs from 2:30-6:00, is a combination of three afternoon classes, mincha, and chesed hours with the children at Beit Hayeled. After a break for dinner, there is Night Seder from 8:00 to 9:30. (Monday night, of course, is the Seminatry-wide night off!)
Wednesday provides a break from the regular routine. The students spend Wednesday morning throughout Yerushalayim engaged in chesed activities such as work in hospitals, in soup kitchens, with the elderly and with disabled people to name a few. We regather as a Midrasha for Shiur Klali – a shiur which summarizes what we have been working on in the Beit Medrash that week. Following Shiur Klali is Megamot – or elective program. Finally, Night Seder with the administration ends the day.
Each shiur slot is from one of our six areas of study: Tanach (Bible), Torah She'be'al Peh (Oral Law, including Gemara), Halacha (Jewish law), Jewish thought, Mussar, or Jewish History. Each student chooses for herself the specific courses in those subject areas that best suit her personal learning style, interest, and level. In this way, each student is guaranteed a well-rounded, comprehensive education that covers the central building blocks of Judaism, while also being able to tailor-make her own personal schedule to match her interests.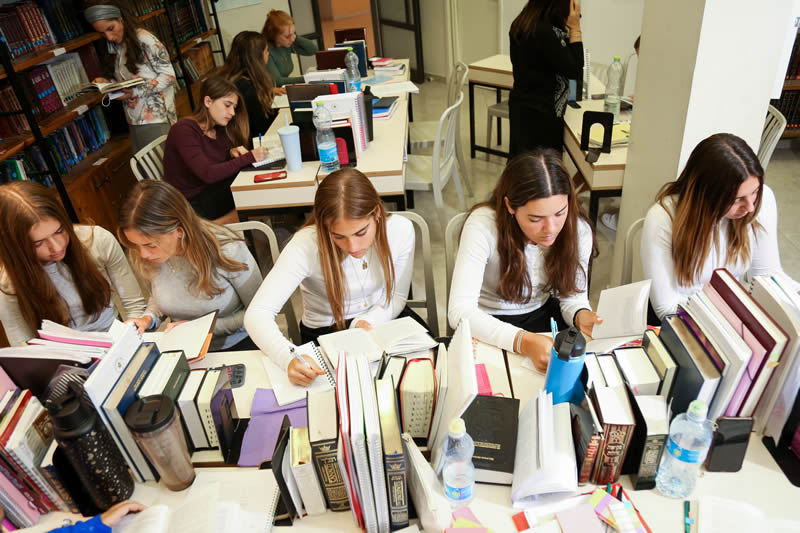 Ultimately, our goals are to instill in our students a love and appreciation for Talmud Torah, to significantly increase their Torah knowledge, to build their skills and their confidence to learn independently, and to inculcate in them the desire to make Torah learning an ongoing and meaningful part of their lives.
We are very excited to guide our students through the incredible year of Torah that awaits them!